The ISO 27001 certification is essential for organizations required or need to have improved information security systems.
Banking, health, insurance, payment merchants, and any other organizations that handle critical information need to be ISO 27001 certified. ISO 27001 certified companies have a better reputation than their uncertified counterparts.
How Does CyberAccord Help Organizations Achieve the  ISO 27001 Certification?
To achieve the ISO 27001 certification, an organization should prove it's managing all sensitive data and information according to the set standards. Certification is given once an accredited auditor performs an audit on its policies, practices, procedures and affirms its compliance with the set requirements.
After certification, the accredited body performs annual audits to ensure the organization stays compliant with all requirements.
CyberAccord helps your organization achieve ISO 27001 in the following ways:
Prepare Organization's Documentation
Organizations must prepare and review documents in advance. All documents required for the audit should be prepared at least 6 months before the audit. Auditors use these documents as a reference to review the organization's compliance. At CyberAccord, we help prepare all technical documents so as to allow for a seamless audit.
In-House Team Training and Preparation
One of the vital certification requirements is proper knowledge of the various security standards. All employees who access or handle critical information should be well conversant with the requirements and policies required for the certification. At CyberAccord, we prepare all in-house teams with proper training to ensure they are ready for the actual audit. Our training involves social engineering tests to ensure they can showcase the resilience needed to deal with socially engineered attacks. We also ensure your employees understand the overall IT infrastructure perfectly before audits.
Risk Assessments and Gap Analysis
For an organization to pass the audit, it should have a risk management plan in place. We perform risk assessments and gap analysis before audits to give the organization a proper insight into its risk environment. Our vulnerability assessment and penetrations testing helps uncover hidden risks that may hinder certification.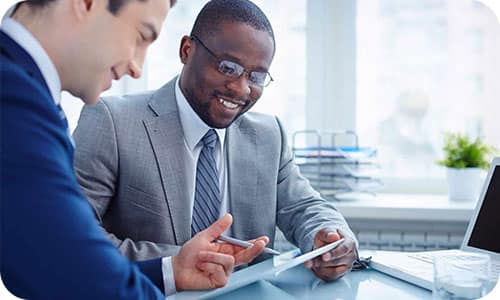 Remediation and Control Implementation
After performing comprehensive risk assessments, vulnerability assessments and pentests, Cyber Accord helps organizations remediate and resolve these risks and threats before auditors pick them out. We implement security controls in accordance with the ISMS. We are committed to ensuring that risks and compliance gaps do not hinder or delay the certification process.
Interested in achieving the ISO 27001 certification?